We've been sharing recipes, crafts and more on our blog for a little over 3 years now (wow!) and in that time, we've been so fortunate to connect with some amazing bloggers and cooks from all over.
We've partnered with Early Birds and Real Farmwives of America and loved the recipes that YOU all have shared in our weekly Recipe Round-Ups.
Some of these new friends have been featured here on our blog and now, we're opening our front door even wider and inviting more of you to join in the fun.
We're thrilled to announce a new series starting today...
Gooseberry Patch Guest Bloggers!
Cris from GOODEness Gracious is sharing a favorite
Gooseberry Patch recipe today...take it away, Cris!
Hello there! I am so excited to be with you here today! I have been a huge Gooseberry Patch fan for years. Don't believe me? Check out my family's tribute to Gooseberry Patch below! ;)
So when they asked if I would like to do a guest post,
I jumped at the chance!
Ya see, Gooseberry Patch has done more for me than just fill my kitchen with amazing cookbooks and yummy dishes, they have supported me when I called them up and told them about a really big change I was making.

My husband and I take one year to change something for our family for GOODe each year. This year through our Year 2 Change Challenge, my husband and I are losing the weight for GOODe over on our He said/She said blog AsGoodeAsItGets.com.
With that, we are working with Gooseberry Patch to highlight their lighter recipes, as well as lightening up some of their other recipes we have fallen in love with over the years.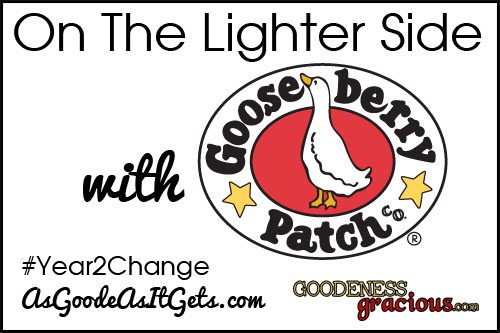 So far we have have found some real gems in two of my favorite Gooseberry Patch cookbooks, Fresh From the Farmstand and Farmers' Market Favorites.
Everything from yummy soups like Chicken Leek Soup and Beef, Barley and Kale Soup to scrumptious Shrimpy Bagels and THE best fresh tomato dish I have ever enjoyed!
Not only are we sharing recipes, but we are sharing calorie counts and nutrition information for every lite recipe shared on GOODEness Gracious and As Goode As It Gets this year (Psst... click the blog names to sign up for their emails).
Today I wanted to share with you how we lightened up one of
our very favorite recipes from Fresh From the Farmstand...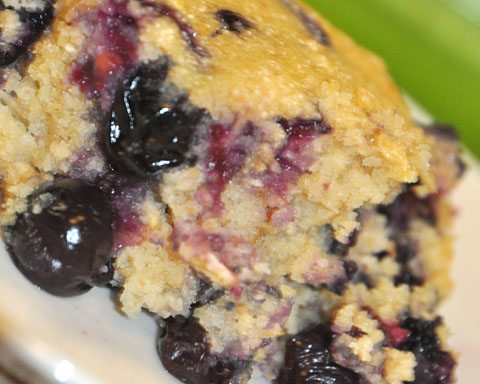 We took the original recipe for Whole Grain Blueberry Coffee Cake and lightened it up and introduced portion control by making Mini Whole Grain Blueberry Coffee Cakes!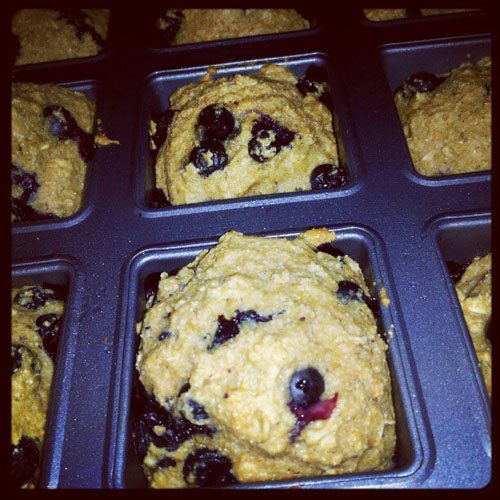 Changes I made?
I reduced the butter by 1 T. and used Light Butter instead of regular.
I used Whole Grain Cream of Wheat instead of regular.
I used White Whole Wheat Flour instead of All-Purpose.
I used 1/2 Cup Brown Sugar-Splenda blend, instead of 1 Cup Brown Sugar.
(Note: If you don't want to use Splenda, you might try using Honey.)
I used Skim Milk.
I also used 1 1/2 Cup Fresh Blueberries instead of 2 Cups Mixed Berries, just because that is what I had on hand.
Oh and I spread the 8-10 servings among 12 cavities in my Brownie Pan and the portions were PLENTY big. (Truth be told the Brownie Pan is one of my favorite portion control tools ).
I love how they turned out. Their texture is balanced with the
perfect sweetness. 233 calories well spent in my book!
By making little changes and using the great recipes in the pages of Gooseberry Patch cookbooks, I have found a great source of inspiration in the kitchen while dropping the pounds the
last 3 months
! Do you want to lose weight or make another change in your family's life? Join us over on our
Year 2 Change Facebook page
for a source of encouragement! If we can do it-- so can you!
Mini Whole Grain Blueberry Coffee Cakes
Ingredients
2 T. Melted Light Butter
1 Cup Long Cooking Oats
1 Cup Whole Grain Hot Cereal (Cream of Wheat)- uncooked
1 Cup White Whole WheatFlour
1/2 Cup Brown Sugar/ Splenda Blend
1 Egg Slightly Beaten
1 Cup Skim Milk
1/4 Cup Oil
1 T. Baking Powder
1/2 t. Salt
1 1/2 Cups Blueberries
1/4 Cup Chopped Walnuts
Instructions
Combine all ingredients except berries and nuts.
Fold in berries and nuts
Pour into a lightly sprayed brownie pan (or 9 x13 pan).
Bake at 350 for 20 minutes (longer if 9 x13)
Notes
Calories 233 Total Fat 8.5g Sat. Fat 1.1g Cholest. 18.5mg Sodium 210.9mg Carb. 34.2g Fiber 4.1g Sugars 11.2g Protein 5.7g
---
Thanks so much for contributing our very FIRST Gooseberry Patch Guest Blogger post...we can't wait to try this lightened up version for breakfast sometime soon!
Join us back here in a few weeks for another guest post, and if YOU would like to contribute, just drop us a note. We'd love to hear about a Gooseberry Patch recipe that you love or that you've tailored especially for your family. 

If all the GOODEness above wasn't enough to tempt you to click over, be sure to visit Cris TODAY for a giveaway of a hot-off-the-presses Gooseberry Patch cookbook, 101 Farmhouse Favorites!
---