Today, our Gooseberry Patch Guest Blogger series
continues with a special event!

You've met Cris of Goodeness Gracious here before, but today, she's sharing a super-fun event...take it away, Cris!

* * *
Cris here from GoodenessGracious.com. I am so excited about a big day my Real Farmwives of America and Friends girlfriends and I have planned this weekend and Gooseberry Patch has graciously allowed me to share about it with you today.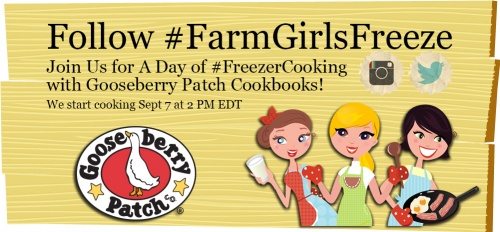 First and foremost, you simply must know that I am a huge fan of the convenience and ease of freezer cooking. I just love already having dinner done or a convenience food or dessert just waiting in my freezer to meet a last minute need...yes, chocolate is definitely a need from time to time in this house ;)Oh and I adore having a clean kitchen all month long with barely having to load the dishwasher! I have used freezer cooking in many different ways to fit my life or even to lose weight.
But here is the thing, one of my very favorite ways to freezer cook is with friends. In the past I have teamed up with my bloggy bud Leah, Aunt Lou and even the farm girls before we were officially the Real Farmwives and Friends as we are today.
So we decided to do it again.
Truth be told, we LOVE to come up with excuses to get together ;). And this time around is super special because one of our girls-- Miss Marybeth-- is expecting her very first child and we are all looking so forward to helping her fill her freezer for those first few weeks as a first-time mommy.
Here is how it works:
There are 10 of us cooking things up this time around, and everyone will be making 10 family portions of a recipe they picked from Gooseberry Patch's Freezer-Friendly Recipes.
Then everyone will take home one of each of the recipes! It is a marathon of a cooking day, but I am sure we will make it through with a little bit of sweat on our brow and a whole lot of laughter.
Learn more about how to plan your own Freezer Cooking Day with Friends. It is soo much fun to spend a day with your girlfriends preparing something for your family -- and theirs!
Join in the fun!
Yep, that's right! It's so much fun that we have decided to share the day with YOU by tweeting and instagramming everything and you can follow along using the following hashtags: #FarmGirlsFreeze and #FreezerCooking. It all starts at tomorrow at 2pm, EDT.
When all the cooking's done, each of the girls will post their recipe from the day on their own blogs. I will recap ALL the recipes on September 12th on Real Farmwives of America and Friends. We'll also host a giveaway featuring a special treat from our friends at Gooseberry Patch -- cookbooks full of freezer-friendly recipes!
Don't miss out!
Stop by the girls' blogs and get ready for all kinds of fun to come!
See you soon at #FarmGirlsFreeze!
* * *
Can't wait to see what you all cook up...we'll be following along!